TUV 2PfG 1169 Pure Copper Solar PV Cable 6mm 1000V
Product Detail
Company
Package
Projects
Application
FAQ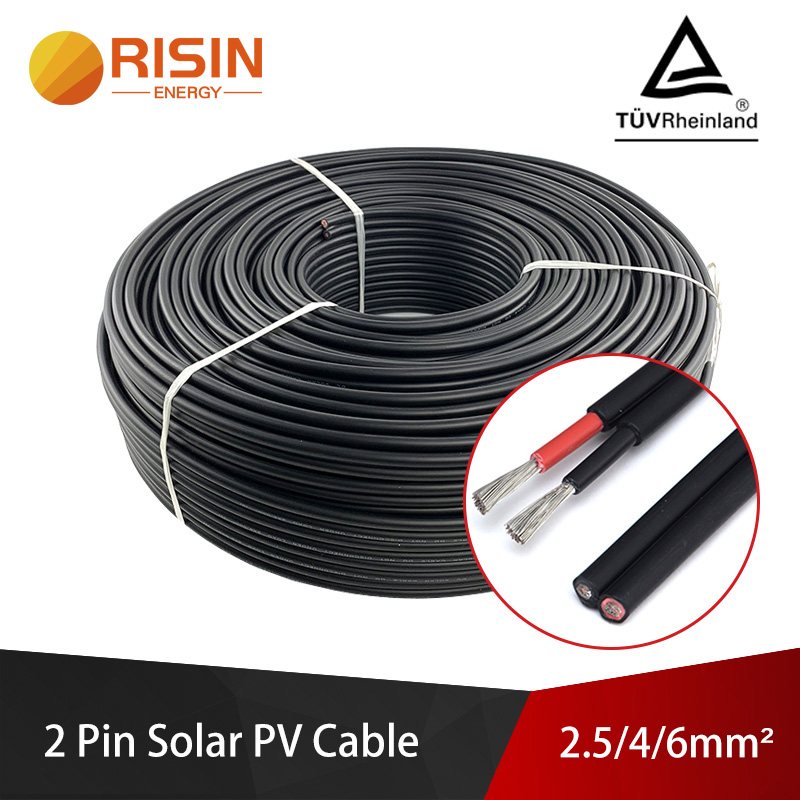 Feature:
TUV 2PfG 1169 Pure Copper Solar PV Cable 1000V 2×2.5mm,2x4mm,2x6mm,2x10mm have Double insulation, electron-beam cross-linked cables for photovoltaic power station.
Constructioin:
Conductor:Tinned copper, according to the VDE0295/IEC60228,Class 5
Insulation:Polyolefin copolymer electron-beam cross-linkd (XLPE/XLPO)
Outer sheath:Polyolefin coploymer electron-beam cross-linkd (XLPE/XLPO)
Sheath color:Black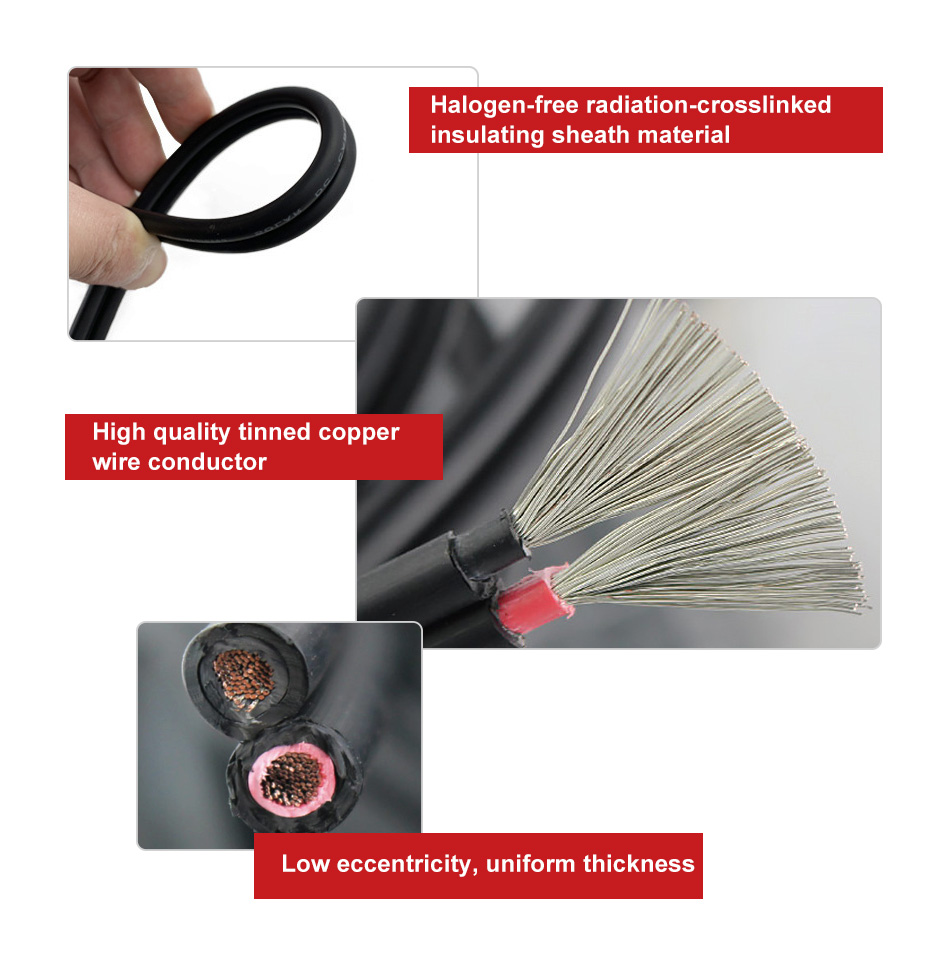 Characteristic:
1. Electron beam cross-linked materials do not melt or flow, even at high temperature, high resistance against heat, cold,abrasion, UV, ozone and hydrolyses.
2.These cables provide the means to interconnect between photovoltaic(PV) panels and from panels to the inverter. 
3.They operate at DC voltage and provide long life in exposed conditions.
Technical Specification:
1.Nominal voltage:U0/U=600/1000V AC,1000/1800V DC
2.Test voltage:6500V,50HZ,5min
3.Temperature Rating:-45℃ up to +125℃  -40 F up to +257F 
4.Ambient Temperature 25 years(TUV):-40℃ up to +90℃  -40 F up to +194F 
5.Max. Short circuit temperature:280℃,+536 F
6.Bending radius: fixed installation>4×Φ Occasionally moved>5×Φ
Material Properties/Standards
Fire-resistance performance:IEC 60332-1
Smoke emission:IEC 61034; EN 50268-2
Low fire load: DIN 51900
Approvals:TUV 2PfG 1169/08.2007PV1-F
Application standards:UNE211 23;UNE 20.460-5-52,UTE C 32-502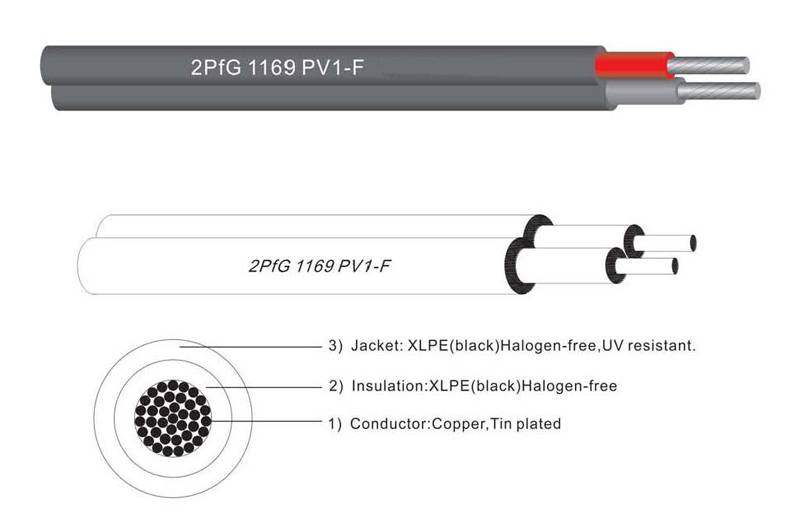 3) Jacket:       XLPE,Halogen-free,UV resistant.
2) Insulation:  XLPE,Halogen-free.
1) Conductor: 99.99% Strand Tinned Copper Wire.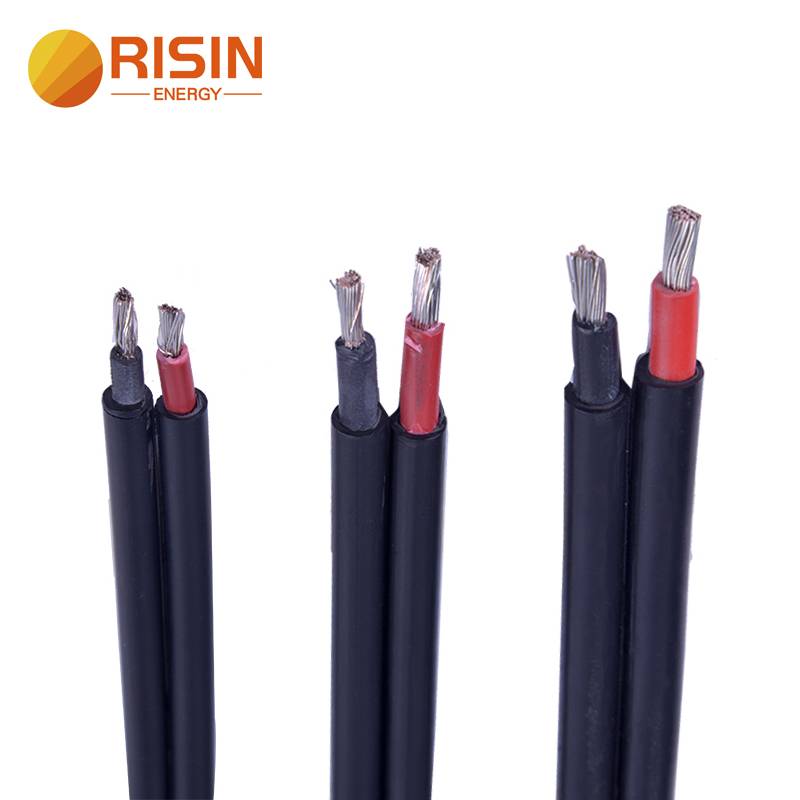 Size of 1000V PV1-F Double Core Solar Cable
| | | | | | | |
| --- | --- | --- | --- | --- | --- | --- |
| Size | Conductor Constuction | Conductor OD | Cable OD | Resistance Max. | Rated Voltage | 60℃ Ampacity |
| mm2 | n x mm | mm | mm | Ω/Km | V | A |
| 2×2.5 | 48×0.25 | 2.02 | 5.45×11.0 | 8.21 | 1000/1800 | 41 |
| 2×4.0 | 56×0.3 | 2.35 | 6.10×12.3 | 5.09 | 1000/1800 | 55 |
| 2×6.0 | 84×0.3 | 3.20 | 7.20×14.5 | 3.39 | 1000/1800 | 70 |
| 2×10 | 142×0.3 | 4.60 | 9.00×18.1 | 1.95 | 1000/1800 | 98 |
The current-carrying capacity is under the situation of laying the single cable in air.
 Solar Connection From Solar panel to PV Inverter
Why Choosing Us ?
  · 12 Years experience in solar industry and trading
  · 30 Minutes to reply after received Your E-mail
  · 25 Years Warranty for Solar MC4 Connector, PV Cables
  · No compromise on quality

---
---
RISIN ENERGY CO., LIMITED. was established in 2010 and located in the famous "World Factory", Dongguan City. After more than 10 years of continuous development and innovation, RISIN ENERGY has become China's leading,world-renowned and reliable supplier for Solar PV Cable, Solar PV Connector, PV fuse holder,DC Circuit Breakers,Solar Charger Controller,Micro Grid Inverter, Anderson Power Connector,Waterproof Connector, PV Cable assembly, and various types of photovoltaic system accessories.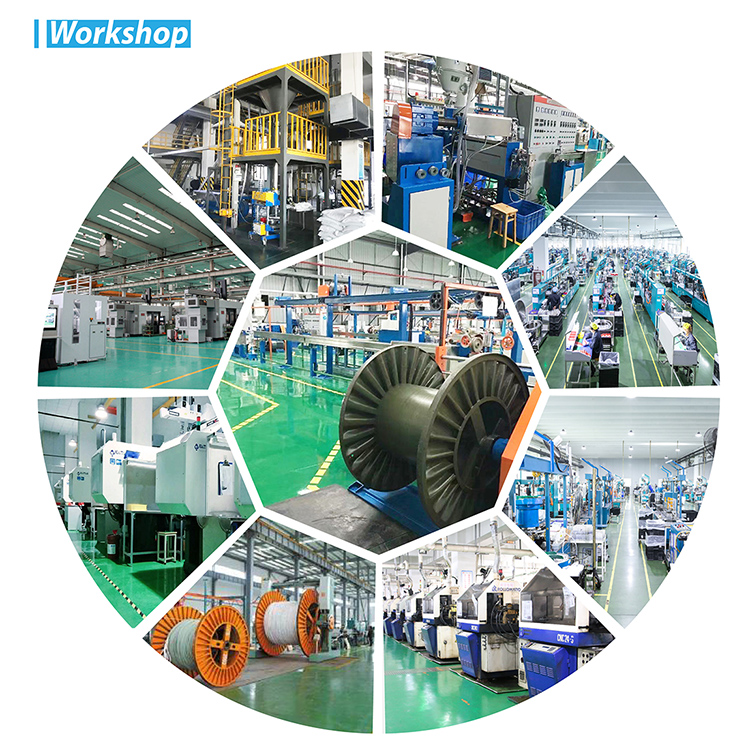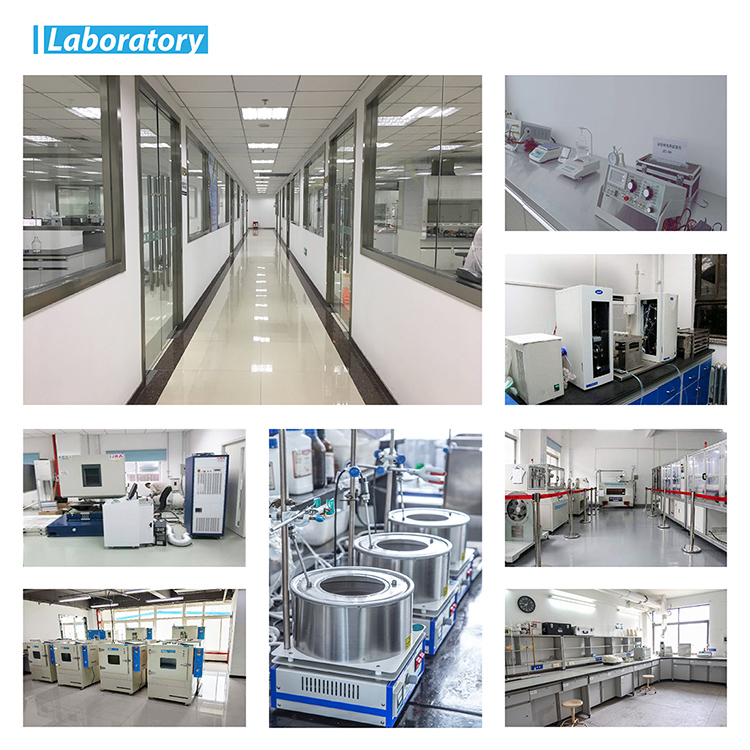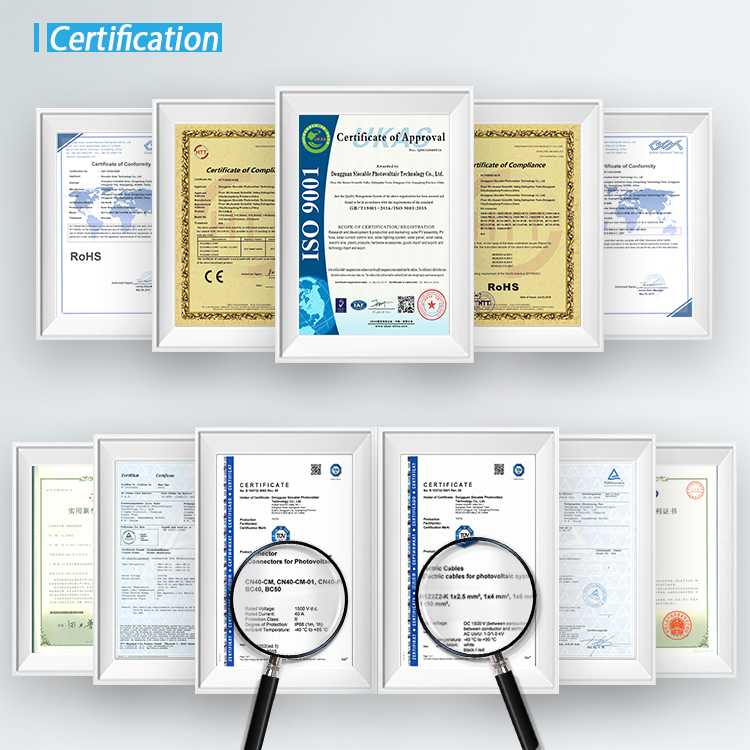 We RINSIN ENERGY is the professional OEM & ODM supplier for Solar Cable and MC4 Solar Connector.
We can supply various packages like cable rolls,cartons,wooden drums, reels and pallets for different quantity as you request .
We can also supply different options of shipment for solar cable and MC4 connector all over the world, like DHL,FEDEX,UPS,TNT,ARAMAX,FOB,CIF,DDP by sea / by air.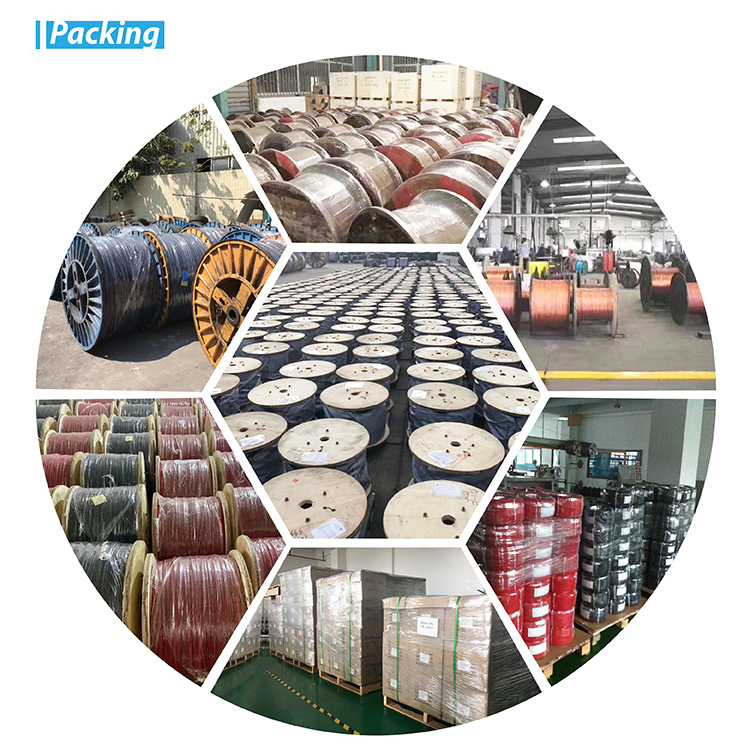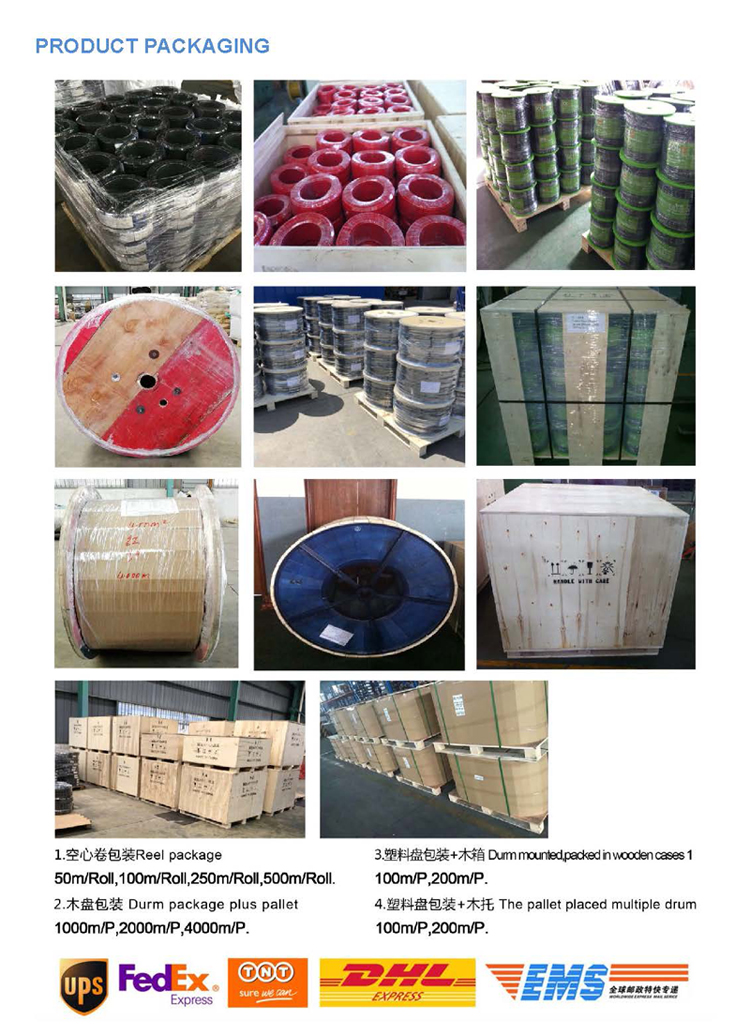 We RISIN ENERGY have provided solar products ( Solar Cables and MC4 Solar Connectors ) to the solar station projects all over the world, which are located in Southeast Asia,Oceania,South-North America,Middle East,Africa and Europe etc.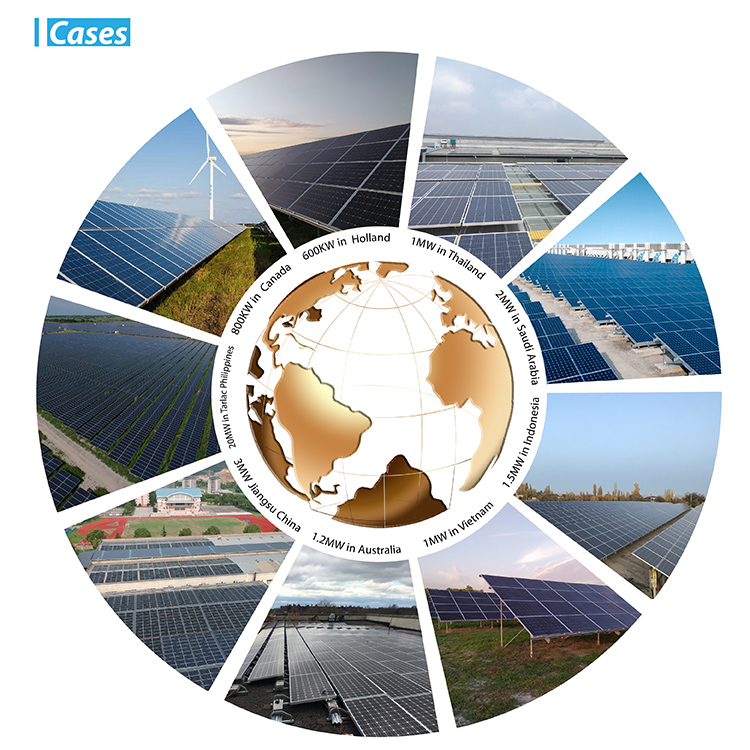 Solar system includes solar panel,solar mounting bracket,solar cable,MC4 solar connector,Crimper & Spanner solar tool kits,PV Combiner Box,PV DC Fuse,DC Circuit Breaker,DC SPD,DC MCCB,Solar Battery,DC MCB,DC Load device,DC Isolator Switch,Solar Pure Wave Inverter,AC Isolator Switch,AC Home Appliacation,AC MCCB,Waterproof Enclosure Box,AC MCB,AC SPD,Air Switch and Contactor etc. .
There are many advantages of Solar power system, safety in use, polution free, noise free, high quality power energy, no limit for the resource distribution area, no waste of fuel and short-term construction.That's why Solar power is becoming the most popular and promoted energy all over the world.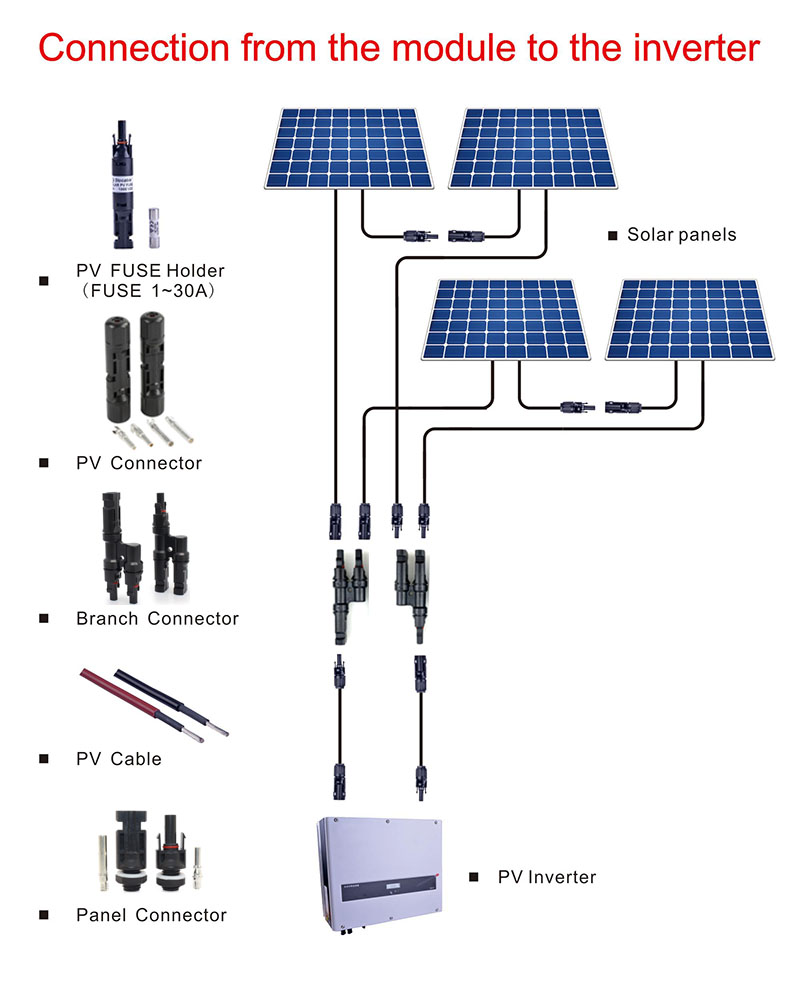 Q1: What is your company's Main Products ? You are the Manufacturer or the trader ?
       Our main products are Solar Cables, MC4 Solar Connectors, PV Fuse Holder,DC Circuit breakers,Solar Charge Controller,Micro Grid Inverter,Anderson Power Connector and other solar relative products.We're the Manufacturer with more than 10years experience in solar.
Q2: How can I get the Quotation of the products ?
       Send your Message to us by E-mail: sales@risinenergy.com,we'll reply you within 30Minutes in the Working Time.
Q3: How does your company do regarding Quality Control ?
      1) All raw material we selected the high quality one.
      2) Professional & Skilful workers care every details in handling the producing.
      3) Quality Control Department specially responsible for quality checking in each process.
Q4: Do you provide OEM Project Service?
       OEM & ODM order is warmly welcome and we have fully successful experience in OEM projects.
What's more, our R&D team will give you the professional suggestions.
Q5: How Could I get the Sample ?
       We are honored to offer you FREE samples,but you may need to pay the courier cost.If you have a courier account, you can send your courier to collect samples.
Q6: How long is the delivery time ?
      1) For Sample: 1-3 Days ;
      2) For small Orders: 3-10 Days;
      3) For mass Orders: 10-18 Days.
Please give us your valuable information:
Write your message here and send it to us